WELCOME!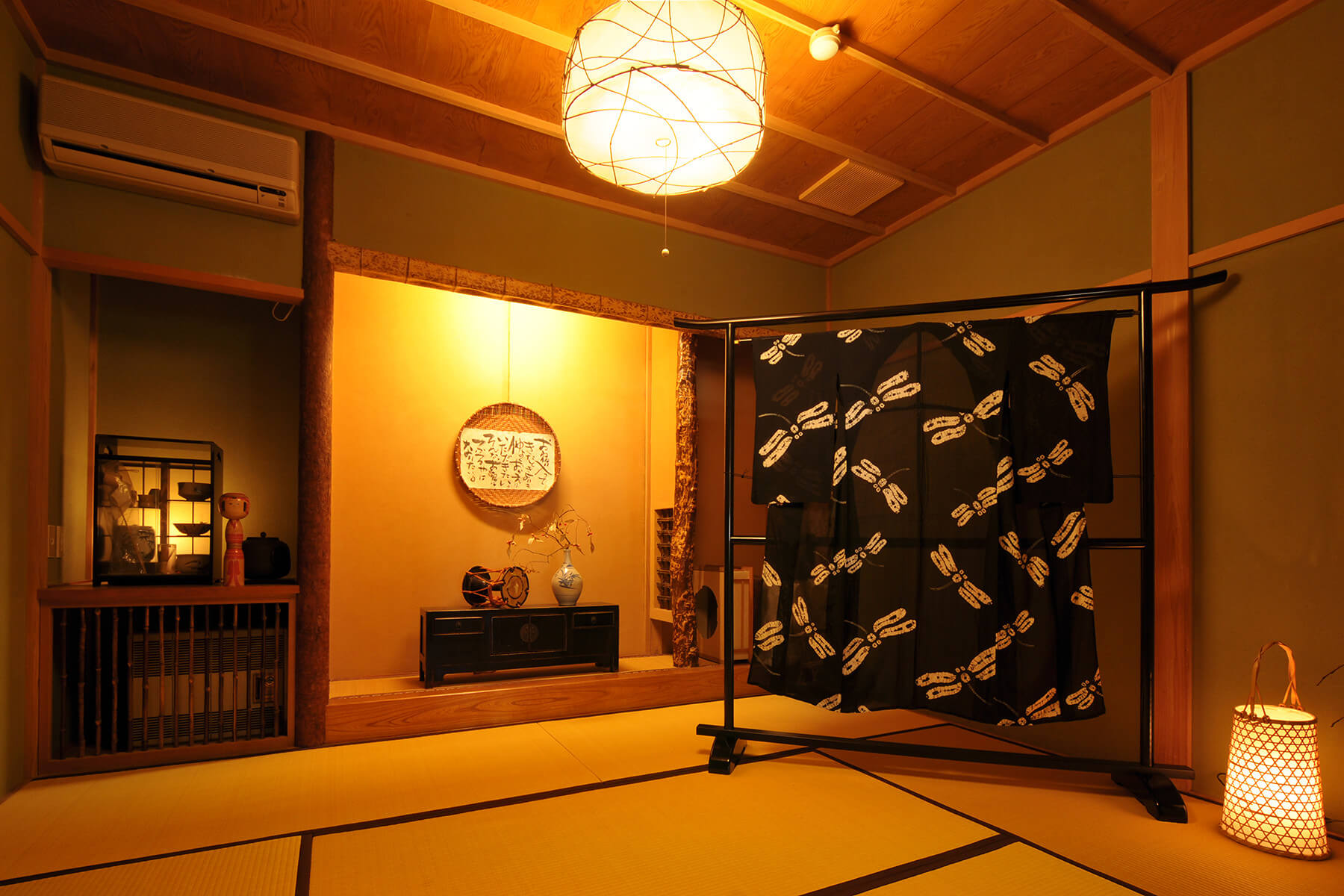 Oyado Furuya is pleased to provide our guests with a uniquely Japanese stay in Myoko ("Oyado" basically means a Japanese-style inn). Located right in the center of the main street of Akakura, Myoko's ski center, Furuya provides quick access on foot to the two major ski resorts in Akakura, and a location close to everything you need, from the shuttle buses to other resorts, to the majority area restaurants and other evening spots. You'll probably never need to walk more than five minutes (although you may feel like a stroll on a snowy night in downtown Myoko.
From the time you enter the hotel you'll know we have something special ready for you, with a warm, natural, very traditional feeling. Our rooms are spacious and beautiful, with Japanese design elements even in the rooms with Western beds (we know futons are not for everyone!). Our rates, too, are quite reasonable when you see our style, our service and our location.
We also take great pride in our Japanese cuisine—and you don't have to be a staying guest to enjoy a memorable meal at the Furuya! We have perhaps the finest shabu-shabu course meals in town: quickly dip tender, thinly-sliced beef in boiling water before dipping it in one of several savory sauces, served with a delicious array of side dishes.
We look forward to welcoming you to Myoko, and Oyado Furuya!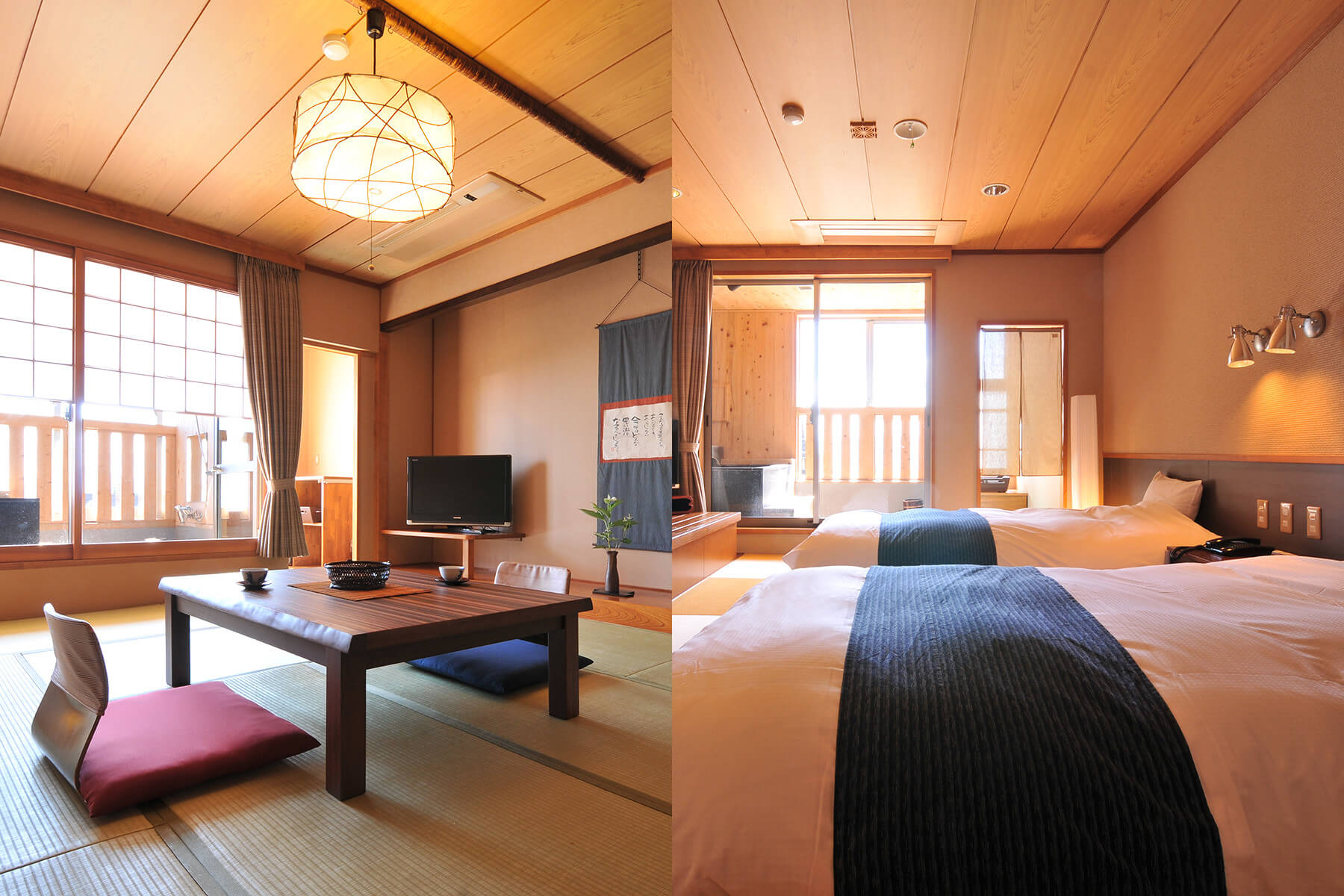 Accommodations at Oyado Furuya
Your room at the Oyado Furuya is your own transport into a true Japanese experience. The appointments feature soft woods and fragrant tatami, with the elegant, restrained colors and textures that are a hallmark of Japanese design.

We're pleased to provide a wide range of room styles and rates, from open tatami rooms that are great for families, to elegant rooms with their own private rotenburo (outdoor baths) on the balcony. You don't have to sleep on the floor on futon mattresses, either (unless you prefer them—which many people do!). We have rooms with Japanese elegance, and comfortable Western beds as well.

Let us know the kind of room that you're looking for when you make your reservations or inquiries; just click here for an easy-to-complete online reservation and information request form. We'll get back to you as soon as possible, and hope that we will have the opportunity to welcome you to the hotel with a very Japanese flavor: the Oyado Furuya!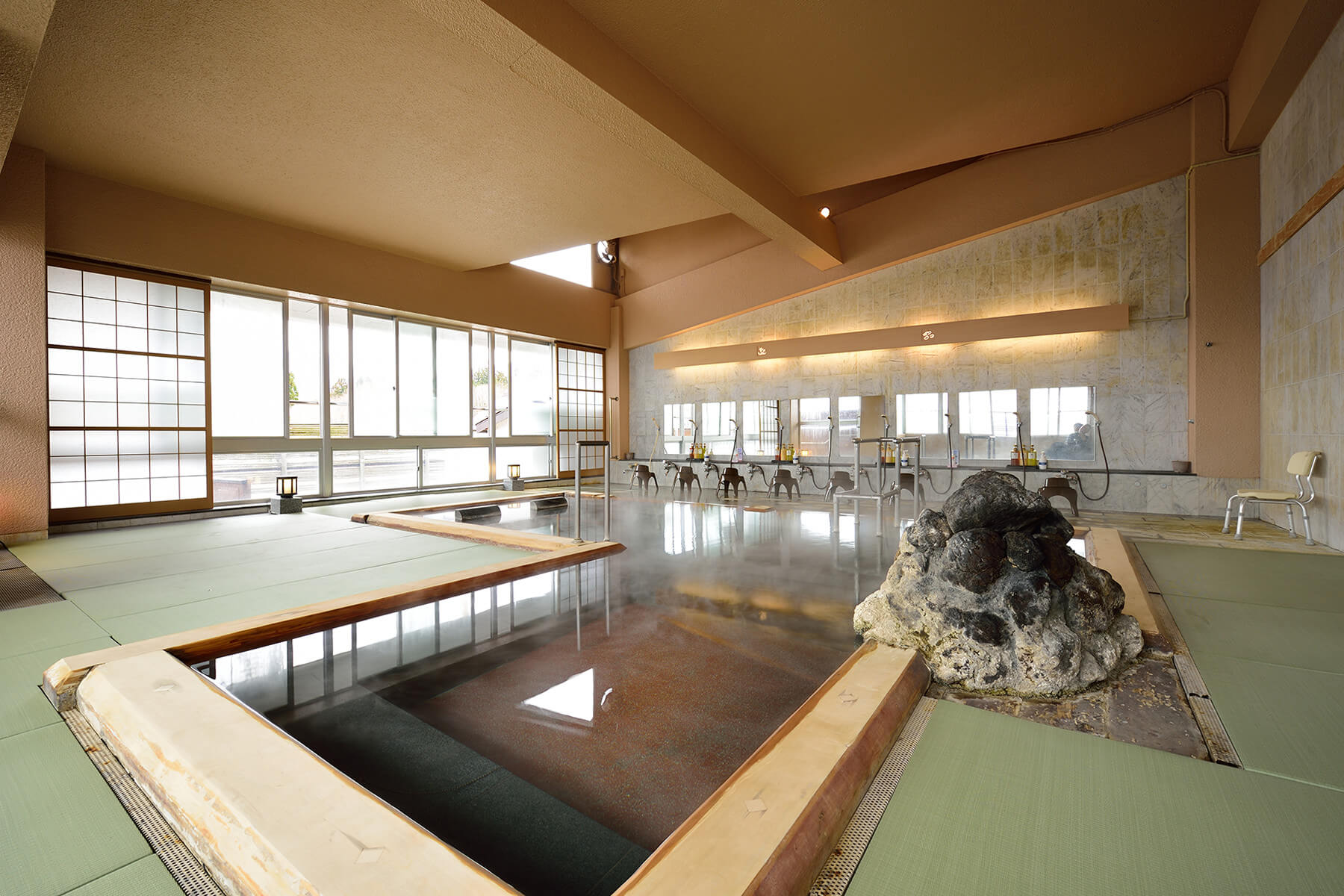 Enjoy a soothing soak in our onsen!
Halfway up the quiet volcano that is Mt. Myoko are two hot spring sources, one to the north, and one to the south. The natural hot water that comes down from them is the reason why Akakura first gained a nationwide name. The original onsen resorts here in fact date back to the Edo Period, the era, ending in the 1860s, that gave us much of what we think of when we think of Japanese culture.
Today, Myoko and Akakura may be better known internationally for snow and skiing, but the onsen hotels are still here, and still a major attraction throughout the year. And at the Furuya, we're pleased to offer some of the nicest onsen facilities in town, including two unique indoor baths.

The tatami-buro is a bath surrounded by soft tatami mats, the same fragrant flooring as used in traditional Japanese rooms. This makes it one of the only such onsen of its kind in Japan. The other is the ishi-buro, the stone-floored onsen, with the flooring warmed by the natural hot water. Use of the two indoor onsen rotates daily, so that men and women can enjoy both baths daily:


Tatami no yu
3 to 7:30pm men / 8pm to 9:30am women

Ishi no yu
3 to 7:30pm women / 8pm to 9:30am men


There's nothing as pleasant as a relaxing soak in a hot, soothing onsen after a hard day on the slopes! And it's especially enjoyable in a truly beautiful, very Japanese setting.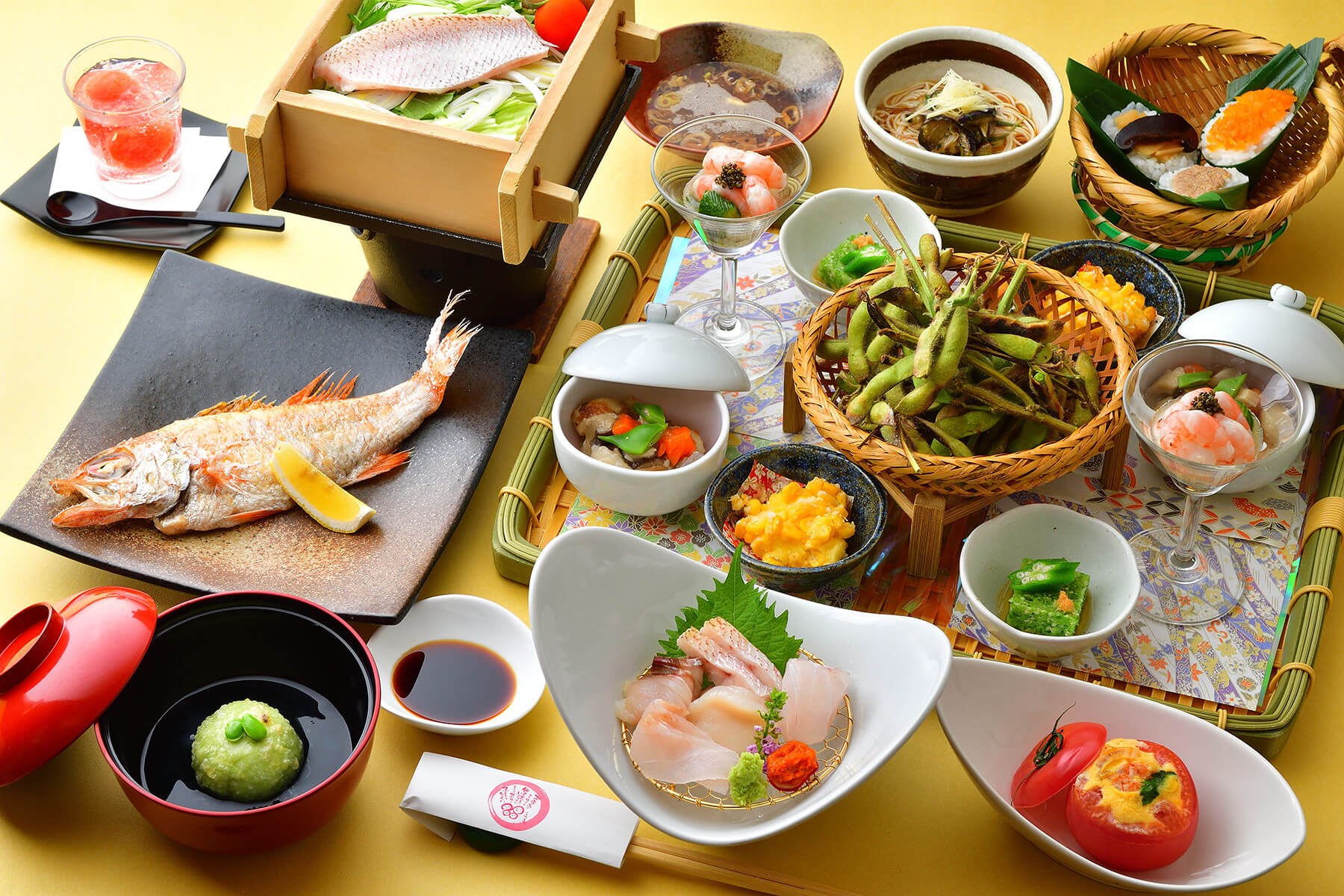 Enjoy great dining at Oyado Furuya
Whether you're staying with us during your travels to Myoko, or are in the area for a visit, we invite you to enjoy a Japanese meal at the Furuya! Our winter specialty is shabu-shabu, thinly-sliced beef that is quickly swished through boiling water, then enjoyed with one of several sauces. The meal also includes a wide range of delicious Japanese specialties, with a focus on the best of the season and from the nearby Sea of Japan.

Please let us know if you have any special dietary requirements, or if you'd like to arrange for a special meal for a large group, or just a quiet dinner for two!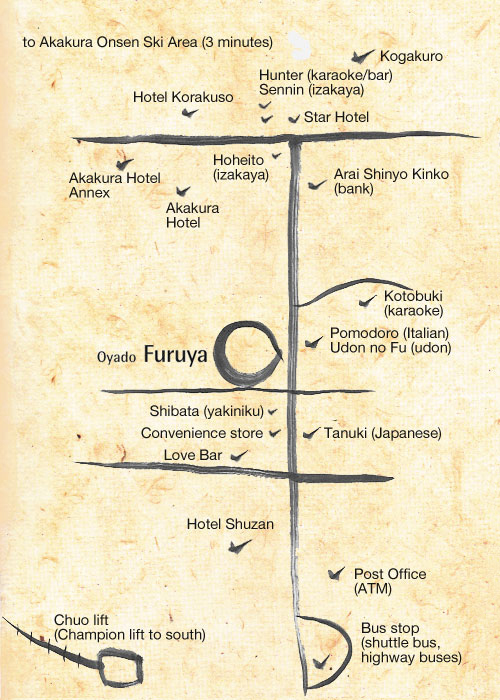 Where we are
Oyado Furuya is close to almost everything you'll want or need during your stay in Myoko. The map below gives an admittedly incomplete list of some of the main landmarks and good places to go in the area around the hotel. Please let us know if you need more information.
Reservations at Oyado Furuya
We look forward to serving you at the Oyado Furuya, and are confident that we can provide one of the most pleasant experiences of your stay in Japan!

Whether you're ready to make a reservation or would like to get more information about Furuya or Myoko in general, please fill in the form below and send it to us. We'll get back to you as quickly as possible on availability, or to answer your questions.